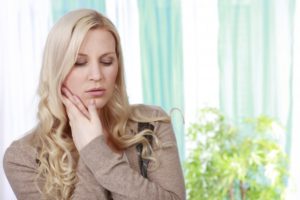 When it's functioning properly, it's a highly effective restorative method, but what should you do if your dental bridge fell out? Your local dentist says don't panic. Here are some effective strategies for handling the situation!
How to Respond to a Dislodged Dental Bridge
If your dental bridge falls out, don't fret. In many instances, your dentist can correct the problem and get you back to normal. Place the appliance in a Ziploc bag. That way you can avoid misplacing or losing it while waiting to be seen by your dentist.
Be sure to bring the bridge with you to your appointment. Therefore, your dentist can determine if it's repairable. Typically, he or she will check the condition of the supporting structures (called the abutments). If there are any damages or cavities discovered, they will need to be repaired before moving forward with bonding the bridge back into position. Next, the dentist will make sure the bridge is fully intact.
What Can Cause a Dental Bridge to Fail?
Along with repairing your bridge, your dentist will provide the necessary guidance to prevent any future mishaps. Here are some of the potential contributors to a failed bridge:
Improper bite
Your upper and lower teeth are designed to meet properly. If they are misaligned, there can be problems when you bite into food. This can place undue stress on your jaw and teeth and contribute to the bridge failing. To prevent this, it's important to visit your dentist regularly for checkups.
Underlying tooth or gum decay
Whether it involves a dental bridge or your natural teeth, it's critical that you practice excellent dental hygiene. Otherwise, oral bacteria can rapidly accumulate and contribute to plaque development. Over time, this can lead to advanced tooth and gum decay that can compromise your bridge.
Misuse of your teeth
Your teeth are mainly designed for chewing food. Attempting to use them to pry open a package, trim your fingernails or in a similar capacity could lead to a dental emergency and failed bridge.
Chewing hard foods
Certain foods can place greater stress on your teeth than others. You should be careful eating hard nuts, certain seeds and other foods with similar textures, as it could eventually break the bond that secures the bridge.
While it's comforting to know that there is help available if your bridge falls out or fails, it's always much easier to prevent a problem than treat it. Following the above tips can help you get more mileage out of your restored smile!
About the Author
Dr. Nicholas Baldelli earned his dental degree from the Boston University Goldman School of Dental Medicine. Throughout his career, he has never wavered in his commitment to excellence, pursuing continued education in a host of treatment areas, including endodontics and oral surgery. Dr. Baldelli places and repairs dental bridges at Newport Dental Associates, and he can be reached for more information or to schedule a visit through his website.