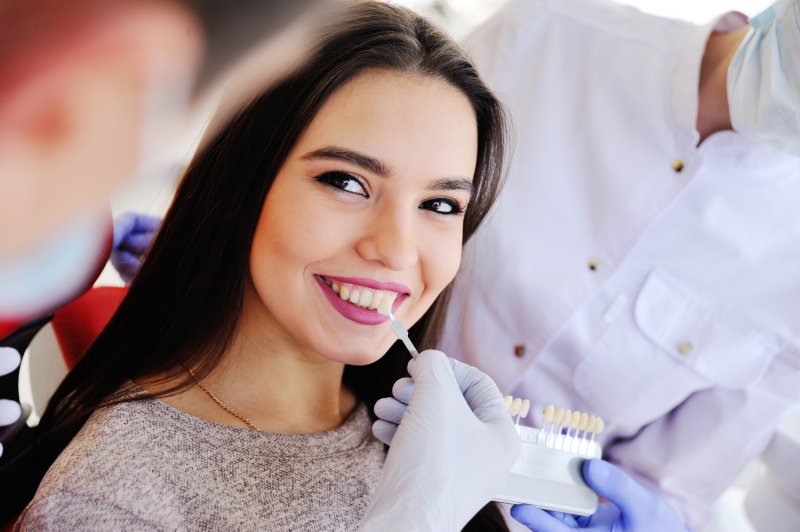 If you're considering getting a complete makeover for your pearly whites, then you probably know porcelain veneers are one of the most popular cosmetic treatments out there. These professional coverings can be your saving grace for any dental imperfection you might want to fix. Before you commit to getting them, you probably want to know each step involved in the treatment. Read on to learn the five steps of the veneer process in Newport.
Step #1: The Brainstorm
The first step in achieving your cosmetic goals is simply to begin planning. You and your dentist will collaborate on every detail of your dental makeover, ranging from the size and shape of your teeth, the color of your enamel, and even the height of your gums. In addition, your dentist will also provide professional insight on smile design and what could be best for your personal situation.
Step #2: Previewing the Goods
Once your dentist understands the kind of cosmetic changes you want, they'll then preview how your coverings will look by creating a life-sized model of your teeth and shape a wax model of your veneers. This provides a clearer idea of what your results will look like when you commit to the treatment.
Step #3: Prepping Your Teeth
After the both of you are on the same page with what your future veneers will look like, you'll then have your teeth prepared for them. This may require your dentist to either polish or shave a thin portion of your teeth for your veneers to properly fit. The amount removed depends on the kinds of changes you want to make, but typically veneers are no thicker than that of a contact lens.
Step #4: Crafting the New Set
A digital impression of your prepared teeth will be made, and the specifications will be sent to a dental lab. The technicians there will create an exact replica of your specified teeth upon which the veneers will be made. This usually takes a week or two to complete your new porcelain plates.
In the meantime, you'll wear a provisional set for daily oral activities. In addition, these temporary coverings will serve as a trial run for how your real veneers will function. After fine-tuning the details of the provisional set, an impression of them will also go to the lab so the technicians can adjust anything on the permanent set.
Step #5: Sealing the Deal
When your veneers return from the lab, they will be bonded to your teeth via a translucent cementing process. The inside of the coverings and your teeth will both be imprinted with a solution that creates tiny pores in both surfaces. Your dentist will then use the cement to fit into these pores, creating a seamless unification of teeth and veneers.
After just two visits, you'll have a brand-new smile to show off! With proper maintenance, they can last you 10 years or more. Visiting your dentist twice a year can also ensure your teeth stay top-notch.
About the Practice
Dr. Nicholas Baldelli completed his DMD at the Boston University Goldman School of Dental Medicine. As a proud member of the ADA, the Rhode Island Dental Association, and the Omicron Kappa Upsilon Honor Society, Dr. Baldelli provides a vast collection of top-quality and friendly dental services, including veneers. If you want to know more about the veneer process, visit his website or call (401) 847-7662.