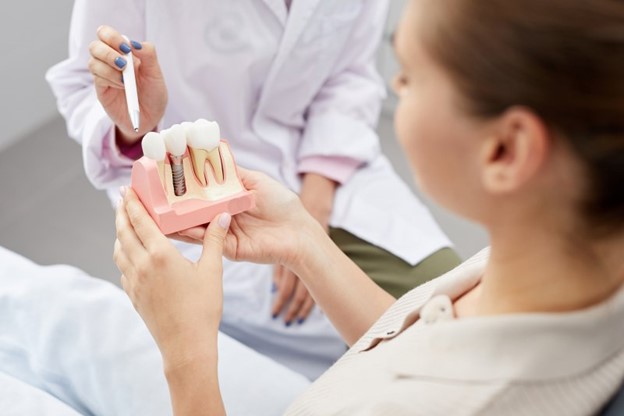 If you're suffering due to missing teeth, your situation isn't hopeless and dental implants can help! Dental implants have quickly become the go-to solution for replacing missing teeth, and rightfully so. These awesome little implants can effectively restore the look, feel, and functionality of your lost pearly whites and completely change your life for the better. That said, if you're curious about receiving dental implants, a consultation with your dentist is the first step. Keep reading to learn more about five things you can expect during this appointment as you begin your journey towards a new and improved smile!
1. Meeting the Team
If you've decided to seek out dental implants and you've scheduled your consultation appointment, the first thing you can expect upon showing up is to meet your dentist and their team. They are the ones responsible for supporting and guiding you throughout the implant process, so it's always nice to feel comfortable and familiar with them. There's no reason to be shy or timid; casual and light conversation is often a great way to warm up to new people and will only ensure a better treatment process.
2. Preliminary Conversation
You will have the chance to talk with your dentist about your smile goals, as well as your oral habits. Your dentist will also review your medical history and any relevant records, impressions, and X-rays. All the information being discussed is critical for helping your dentist determine not just your eligibility, but also the best possible course of action. If you have specific concerns or wants, now is the time to mention them; your dentist is there to help and having an honest and open forum will allow them to.
3. Oral Evaluation
Your dentist will have to perform a thorough oral evaluation, including X-rays or 3D imaging, to determine if your mouth can handle implants. Some patients can't immediately receive implants without first receiving treatment for gum disease, a supplemental bone graft, or some other kind of prep work. This examination also helps to determine how many implants you'll need and where they'll need to go—your dentist can't just blindly place them wherever they want!
4. Treatment Plan Discussion
After discussing and examining your mouth, your dentist will begin reviewing your treatment plan with you. They'll cover things including:
Estimated timeline for the overall treatment process.
Number of required appointments and additional procedures.
Local anesthesia and sedation options.
Post-surgery expectations and instructions (the dos and don'ts).
5. Final Questions & Wrapping Up
At the end of your consultation, you'll have the opportunity to ask your dentist and their team any final questions you might have about your treatment plan. As a patient, you have the right to know exactly what your dentist is going to be doing! Speak up and address any concerns that you have, to ensure that when the day arrives, you feel confident about sitting down in the chair to get your implants. You can also ask your dentist to share before-and-after photos of previous patients—they will be happy to show off their work, especially if it makes you feel better about your own treatment.
Your dental implant consultation is the first step towards achieving the smile of your dreams, so don't hesitate to visit your dentist and get the process underway!
About the Practice
Newport Dental Associates proudly serves patients and families in Newport, RI under the leadership of Dr. Nicholas Baldelli. Dr. Baldelli completed his DMD at the Boston University Goldman School of Dental Medicine and is a member of several professional organizations including the American Dental Association and the Rhode Island Dental Association. His practice is pleased to offer many available services including dental implants. If you have any questions about dental implants or would like to schedule a visit, you can contact the practice online or by phone: (401) 847-7662.