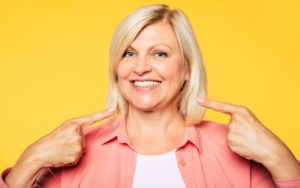 Dental implants are considered the gold standard of tooth replacement. They're an excellent solution to help patients eat, speak, and smile with complete confidence once again. Although they have several restorative and health benefits, some patients are concerned they won't look aesthetically pleasing. However, implants are designed to give you a grin you can confidently flash! Read on to learn some cosmetic benefits of dental implants from your dentist in Newport.
Bone Tissue Enhancement
It's harder to produce an ideal aesthetic result when there's a significant amount of bone and soft tissue loss. When you are missing a tooth, there's a higher chance for bone resorption to occur because the area is no longer being stimulated by regular chewing. Fortunately, a dental implant can help you maintain the integrity of the jawbone and prevent future bone loss from occurring. Thus, implants help preserve a youthful facial structure!
Ideal Implant Placement
A dental implant must be placed in an optimal position for osseointegration (fusion of titanium post with the jawbone) and stable function. However, successful placement can also provide enough space around the implant for an aesthetically pleasing restoration.
Custom-Made Replacement Teeth
Thoughtful planning is required to create a beautiful result. Your dentist will custom-make the replacement teeth attached to your implants to provide you with a natural-looking grin. They'll make sure to match the exact shape, size, and color of your remaining teeth so they blend seamlessly.
Soft-Tissue Management
Do you have receding gums? With dental implants, your dentist might be able to reconstruct the gum tissue with soft-tissue grafts to improve their appearance. Although this step isn't necessary, it can certainly be implemented for ideal results.
Prosthetic Design
In some cases, a "black triangle" space is left between the front teeth because of inadequate gum papilla. To avoid this, your dentist can design crowns to reduce the amount of space between your teeth. They can make it appear as if the prosthetic teeth are emerging out of the gum tissue rather than resting on top. When done successfully, the restorations look natural instead of artificial.
If you have missing teeth, talk to your dentist in Newport to learn more about the cosmetic benefits of dental implants. With this treatment, you can simultaneously enjoy improved oral health and a stunning appearance!
About the Author
Dr. Nicholas Baldelli earned his dental doctorate from Boston University. A member of the American Dental Association, he memorably completed an extensive oral surgery course in Guatemala and values continuing education to expand his clinical expertise. If you are interested in dental implants, Dr. Baldelli can determine if you are a good candidate for the procedure during a consultation. Schedule one on his website or call (401) 847-7662.